Welcome to paradise
San Martinho Beach Club™ offers holiday makers and owners alike a place to relax and take in the beautiful environment.
Whether you prefer to take a dip in the cool water, discover something new or have heart-pumping adventure there is an activity for you.
First-class accommodation
Our apartments are situated right on the soft sand with immediate access to the lagoon. We offer spacious 3 or 4 bedroom self-catering units that are serviced daily.
With a fully equipped kitchen, lounge and patio with BBQ facilities, this is all you'll need for your sea-side holiday.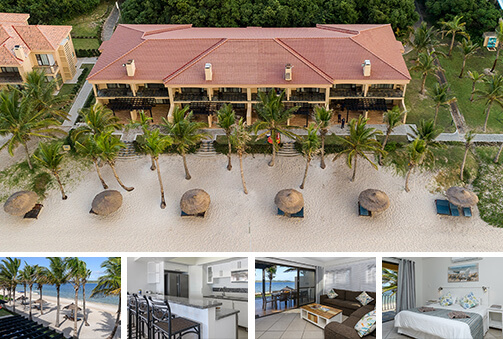 Enjoy your holiday
Both San Martinho Beach Club™ and Bilene offer visitors the opportunity to experience Mozambique in many ways. Whether you are a keen fisherman, were born for the water, yearn for adventure or simply prefer the happy-go-lucky way of life there is something for you to do.
Read more about our facilities and local attractions
Facilities
Escape to a revitalising setting
An abundance of leisure and entertainment activities
This exclusive Resort offers a host of facilities and attractions for residents, especially to those in search of aquatic adventure, with world-class boating and diving as firm favourites. For the angler there is a choice of inshore and offshore fishing. The wide range of water-based activities complements an equally impressive array of land-based pursuits. Click here for prices.
After a fun-filled day of activities, you can unwind with a sundowner whilst enjoying the endless ocean views.
San Martinho Beach Club™ facilities include:
1.3km of beach frontage Enjoy the soft sand and warm waters of Mozambique
Rim flow swimming pool Cool off in the pool with views over the lagoon
Dry bar Bring your own drinks and sip on some refreshments in the pool
Gym Keep up with your fitness routine whilst enjoying the beautiful view
Games Room Young and old will enjoy indoor games like pool, foosball and table tennis
Resort Water Skiing / wakeboarding For the adrenalin junky – even more water-based fun!
Jungle Gym Let your little ones play to their heart's content
Outside Chess Board Challenge your friends and family to a game in the shade of the trees
Bird watching Birding enthusiasts will enjoy all the bird species that made the resort their home
Kayaks Explore the lagoon or the shallow ocean – you may even spot a dolphin!
Stand-up Paddle Boards Can you keep your balance? Take on the still lagoon on a SUP board
Paddle Boat Enjoy a leisurely paddle across the lagoon with your loved ones
Beach Volley Ball Who'll be left in the dust and who'll be the winners? Enjoy a great game on the sand
Bicycle hire Explore the resort grounds and area on a bike
Adventure Putt-Putt A firm favourite amongst young and old
Board Games Perfect for rainy days or late nights – get your games from reception
Boule Can you hit the target or get close enough?
Library Enjoy some light reading in the shade of a palm tree or whilst cuddling up on cool evenings
Walk-on snakes & ladders Kiddies will have a blast on this outdoor game board
Surf and offshore fishing Mozambique is all about the fishing – get your rod and reel ready!
Future Facilities Include:
2 x Tennis Courts For the enthusiast – hit it out on the tennis court
Additional large swimming pool San Martinho Beach Club is all about the water after all!
Mashie Golf Take a swing and meet some new people on the course
Restaurant Nothing beats a good meal after a long day of swimming and sight-seeing
Beach Bar Sip on something cold during the warm evenings.
Fishing Charters Bring your mates and make a day or two out of it whilst you bring in the big catch
Small sailboat hire Perfect for leisurely days on the ocean
Sundowner Cruises The perfect way to end your day in Bilene
Attractions
Attractions nearby San Martinho Beach Club™ include:
Bilene Beach Work on your sun tan or take a dip in the warm waters
4×4 and quad biking Trails See the Bilene landscape from a different perspective
Wimbi Beach Join the crowds and explore the local bars and restaurants
Uembje Lagoon 13km of water and the perfect spot for an array of water sports
Inhaca Island A firm favourite amongst eco-tourists and divers for the diverse fauna and flora
Deep sea fishing Mozambique is famous for the excellent fishing spots
Snorkelling Beautiful reefs and clear waters make this a great snorkelling destination
Diving With an active marine world and beautiful underwater reefs, this is a favourite spot for divers
Mozambique Horse Safaris Not only is it very romantic, but it's also a once in a lifetime experience
Turtle Cliff Trail See the giant leather back turtles lay their eggs and make their way back to the ocean
Local Bilene Market Buy fresh fruit, bread, seafood, cold beers and unique keepsakes from the friendly locals
Restaurants: Choose from various options – Portuguese, market food, pizza and traditional Mozambican cuisine.
Getting There
Make your trip easier with our helpful tips
Directions
San Martinho Beach Club™ is situated 180km north of Maputo and 3km from the Bilene Airport. South Africans will find it an easy drive (8 hours) from Johannesburg. You do not need a 4 x 4 to reach our resort.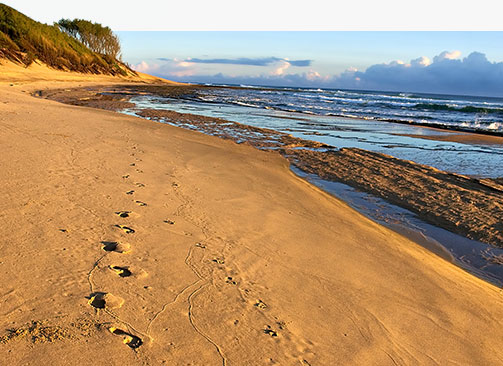 Border Information
Nationals of the following countries are exempt from tourist visas when visiting Mozambique for no longer than 30 days: Botswana, Malawi, Mauritius, South Africa, Swaziland, Tanzania, Zambia and Zimbabwe. Multiple-entry into Mozambique for tourism reasons is permitted within a single calendar year, provided that each stay does not exceed 30 days.
Driving Tips
Take note of the speed limits as they reduce down to 60km/h when passing through villages. Traffic officials use radar as a means of trapping. If traffic officials stop you, be courteous and polite. If you are in the wrong, pay the fine but insist on a receipt.